By Shaun Bryant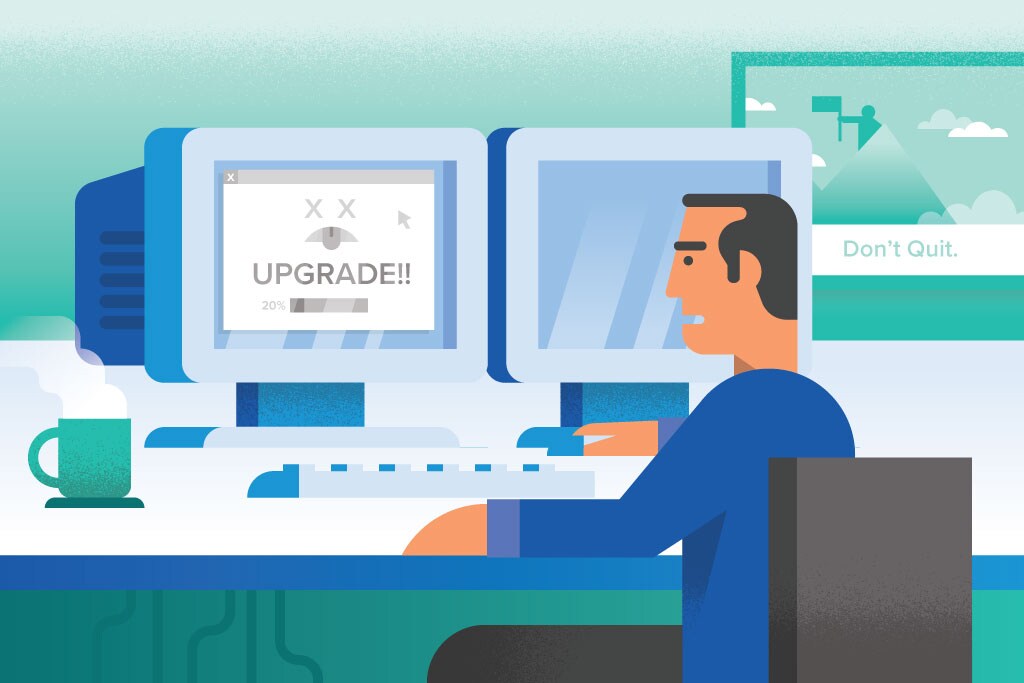 Now that Autodesk has moved to a subscription business model, you can automatically get your shiny new version of AutoCAD on demand from the cloud. (No, not those clouds, THAT cloud–where have you been?). That then leaves you, as the (potentially de facto) CAD manager or administrator for a small or medium size company, in a position where you have two possible outcomes: either you upgrade, or you don't.
Managing CAD in an SME environment often tends to be a just-in-time process or workflow, where newer AutoCAD versions are installed just before a new project needs them, rather than being installed to a specific timeline or schedule. This can lead to that nervous feeling, which I've experienced. Sometimes, good, sometimes bad, but always nervous.
So, let's put the CAD manager hat on: knowing the above, are you nervous about that AutoCAD upgrade?
The scenario
You are the CAD "manager" in a small practice. Normally, you would be a senior CAD technician and the "manager" moniker suggests just another addition to your list of duties for your sins, right? I've been right there in this role, and it can sometimes be extremely tough to juggle CAD management and the regular day-to-day operational work. So, here is where the Autodesk subscription delivery model becomes your lifesaver. All you have to do is log in to your Autodesk software management page at http://manage.autodesk.com and select the version you want to install. Then, using the Download Manager, the serial number, and product key provided, run the install. It runs in the background–no disks, no USB sticks–and once it's done, it's done. No mess, no fuss. You just need to ensure that no other versions of AutoCAD are running (and make sure that Microsoft Outlook isn't running) and as we say in England, Bob's your uncle (translation = it's done!). You can even run more than one version of the software if you need to, and the Autodesk Desktop App provides simple and clear migration options from one version to a newer one.
What about training though?
So, let's think about how you should train your small, but powerhouse team on the new version. Letting just one person out of the office on a training course could be critical to project and workload planning. Well, here, the cloud comes to the rescue. Not only does Autodesk provide their own New Features material on the Autodesk website and in the product itself, but so do cloud-based training providers, such as Lynda.com and LinkedIn Learning. Simply search on their site using keywords such as "AutoCAD" and "new features". There are many other online training providers too, so find the best choice for you. Better yet, find out if they offer a Learning Management System (LMS) where you can monitor learning progress (for you and your colleagues) to ensure that the entire syllabus is covered in each cloud-based course.
Don't Panic
Running and managing the AutoCAD provision in an SME is never easy. It is often the last thing to be thought of when all the operational pressures must take precedence; getting the drawings out on time, managing all the drawings revisions needed by engineering and the day-to-day CAD management all take precious time. This is where the Autodesk subscription model comes to your aid by allowing you to deliver upgrades quickly and effectively, using the Download Manager to download the new software and the Autodesk Desktop App to migrate all your settings through to the newly installed version.
An SME's AutoCAD upgrade management is never a perfect science, but with the right deployment tools, it can become a lot less stressful–and with the tools Autodesk provides, upgrading has never been easier.