Bringing back the past with a modern approach
Spanish architect David Romero wanted to learn more about 3D modeling so he decided to combine it with his passion for Frank Lloyd Wright. Not only did he expand his skills with Autodesk software, he also created unparalleled views of destroyed and unconstructed Wright works. Now, David has garnered international fame and continues to bring history back to life with AutoCAD.
Creating a look at the past
David Romero simply wanted to expand his 3D modeling skills. A fan of Frank Lloyd Wright's work since he was an architecture student, he decided to model one of Wright's buildings: the Rose Pauson house that was finished in 1942 but burned to the ground in 1943. He chose this particular structure because 3D tools serve precisely this purpose—the ability to see something that does not exist.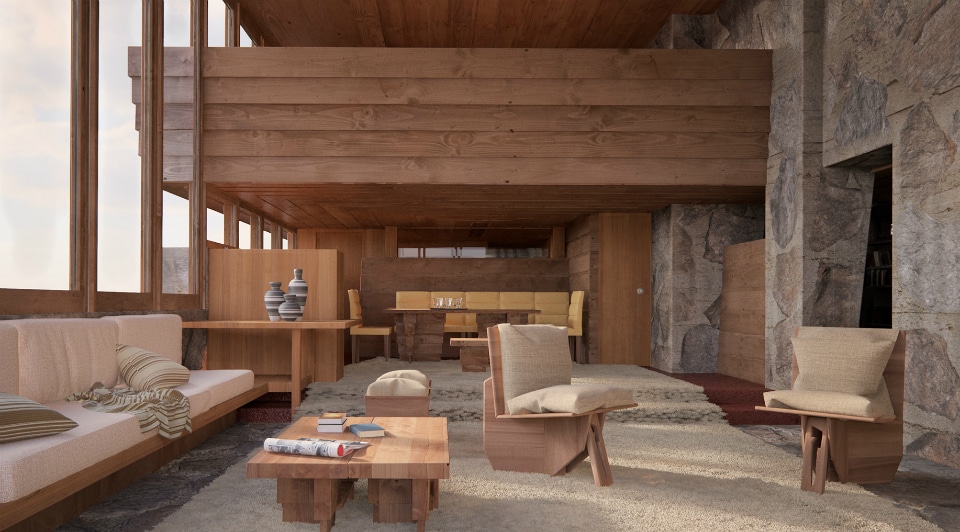 Rendering of the Rose Pauson House in Phoenix, Arizona. Designed by Wright in 1939, it was completed in 1942. One year later it was destroyed in a fire when an ember from the fireplace fell and ignited a nearby curtain. Courtesy of David Romero.
As Romero progressed with his very first rendering of the Pauson house, he realized the tremendous possibilities at hand and an entirely new passion. He started Hooked on the Past to explore the history of architecture, and he has now completed stunning renderings of Wright's E.A. Smith house, Trinity Chapel, and the Larkin Administration Building. He also works closely with the Frank Lloyd Wright Conservancy. And he's captured quite a bit of media interest from Wired to The New York Times, too.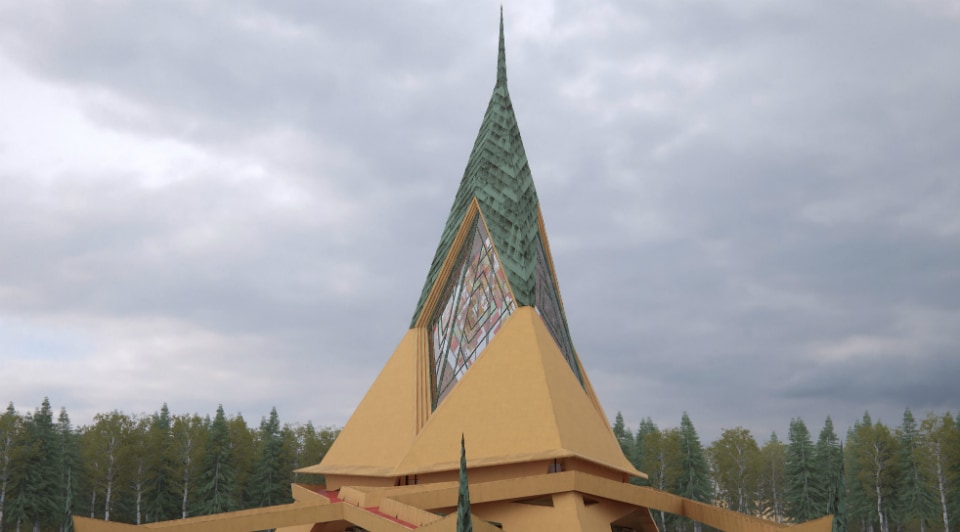 Designed by Frank Lloyd Wright in 1958, the Trinity Chapel was never built for the University of Oklahoma. Courtesy of David Romero
Here, Romero shares how he uses AutoCAD to help create these renderings, the process, and what he believes Wright would think about technology today.
Can you tell us a little bit more about the process of taking Frank Lloyd Wright's drawings or photos and transforming them into digital 3D renderings?
First, I collect all possible information about the work in question: blueprints, plans, elevations, perspectives, photographs, etc. With this information, I model the building in AutoCAD, and it's virtually all done there. If there are photographs or perspectives drawn by hand by Wright, these give me an idea of the materials and final image of the building.
I then export it to 3ds Max where I add the lights, cameras, and textures, as well as details of furniture and vegetation. Finally, once I have the renders made, I usually make small adjustments to the final images in Photoshop.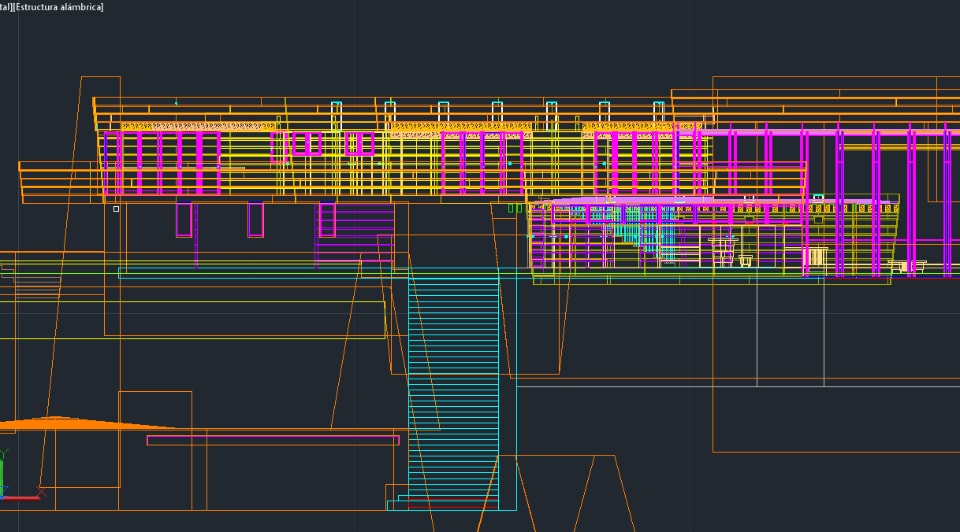 Re-creating Frank Lloyd Wright's Pauson house in AutoCAD. Courtesy of David Romero.
What was the most challenging part of the renderings you've done so far and how did you overcome it?
For the Larkin Administration building, creating the sculptures was a real challenge. With the Pauson house, making a convincing texture that emulated the "desert masonry" was a long process that probably took me over a month of work. With the Trinity Chapel, the unique triangular shape of the building, in plan and elevation, is quite complex to model and I had to redo it several times to perfectly match Wright's work.
Rendering of the five-story Larkin Administration building, designed by Frank Lloyd Wright in 1903 and completed in 1906 for the Larkin Soap Company in Buffalo, New York. By 1943, the company was in decline and forced to sell. In 1950 the building was sold again and demolished for a truck stop that was never constructed. Courtesy of David Romero.
Why is it so important for architecture today to look at the past?
Wright's work continues to inspire many contemporary architects, including myself, and in that sense I believe it is a past that has not lost any validity. On the other hand I hope that my work will also help to raise public awareness about the need to preserve this part of our artistic heritage and of the twentieth century. Perhaps because it is so close, it is not protected as it should be. Those buildings were real works of art and I hope my work can show the beauty of what we have lost.
Do you have plans for new projects and renderings?
My to-do list is very long. Right now, I am now modeling Wright's Ocotillo desert camp. In addition to Wright, I would like to re-create works of other modern architects, such as Aalto, Mies van der Rohe, or Le Corbusier. I am also interested in classical architecture from Greece and Rome. In short, from the early Mesopotamian temples to the present day, there is much to explore.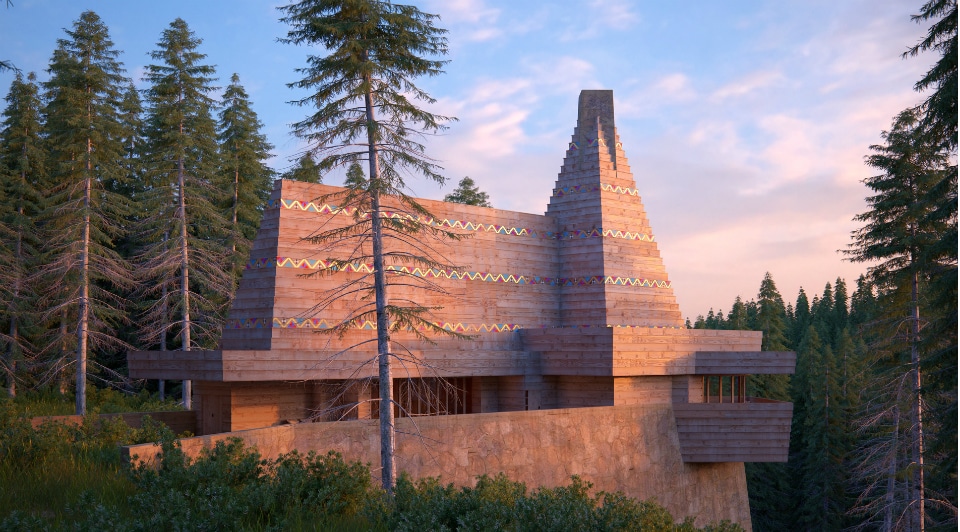 Rendering of unbuilt Mr. and Mrs. E.A. Smith house designed by Frank Lloyd Wright. Courtesy of David Romero.
What do you think Frank Lloyd Wright would think about the technology available for architecture today?
Wright was a genius and a man ahead of his time because he knew how to take full advantage of the technology to make buildings that continue to surprise us today. If he were still alive, he would be faithful to his spirit and continue to use the technology of the present in new and creative ways that would surely surprise us.
Rendering of Larkin Administration building. Courtesy of David Romero.